Cookies for breakfast?! Say whaaaaat?! Yes. Cookies. For. Breakfast. Just because something is a cookie doesn't mean it has to be high-calorie and full of sugar and unnecessary fats. I have busy mornings where I don't have time to think and just need a quick snack in between meals. Usually, it's when I am traveling or have an early morning/outdoors workout planned. This is where breakfast cookies come in handy. I don't make these often, but they're always a treat to have when I do. For those mornings when all you can think about is how much time you don't have, here are 10 breakfast cookie options!
10 Better Breakfast Cookies
Gluten-Free Cranberry Walnut Breakfast Cookies | Yes to Yum
Combine oats, coconut flakes, walnuts, cranberries, and a just a couple other ingredients to make these tasty breakfast cookies. I love that they're low in sugar, but rich in whole foods and so simple! These soft, chewy cookies are made sweet with banana and just a bit of honey.
Vegan Chocolate Breakfast Cookies | Create N Plate
These are basically breakfast cookie sandwiches. The cookies are basic with cacao, oats, and banana. The filling is made with dates, cashews, hemp seeds, maple syrup, water, and cacao. These chocolate breakfast cookies are SO easy to make if you've got the ingredients on hand.
Pumpkin Oatmeal Breakfast Cookies | The Lemon Bowl
This recipe makes 12 pumpkin breakfast cookies, perfect for fall, but you could easily halve the recipe. The base of your dry ingredients comes from oats, flax seed meal, and chia seeds. Your wet ingredients come from pumpkin puree, the milk of your choice, and some maple syrup. You could even add chocolate chunks!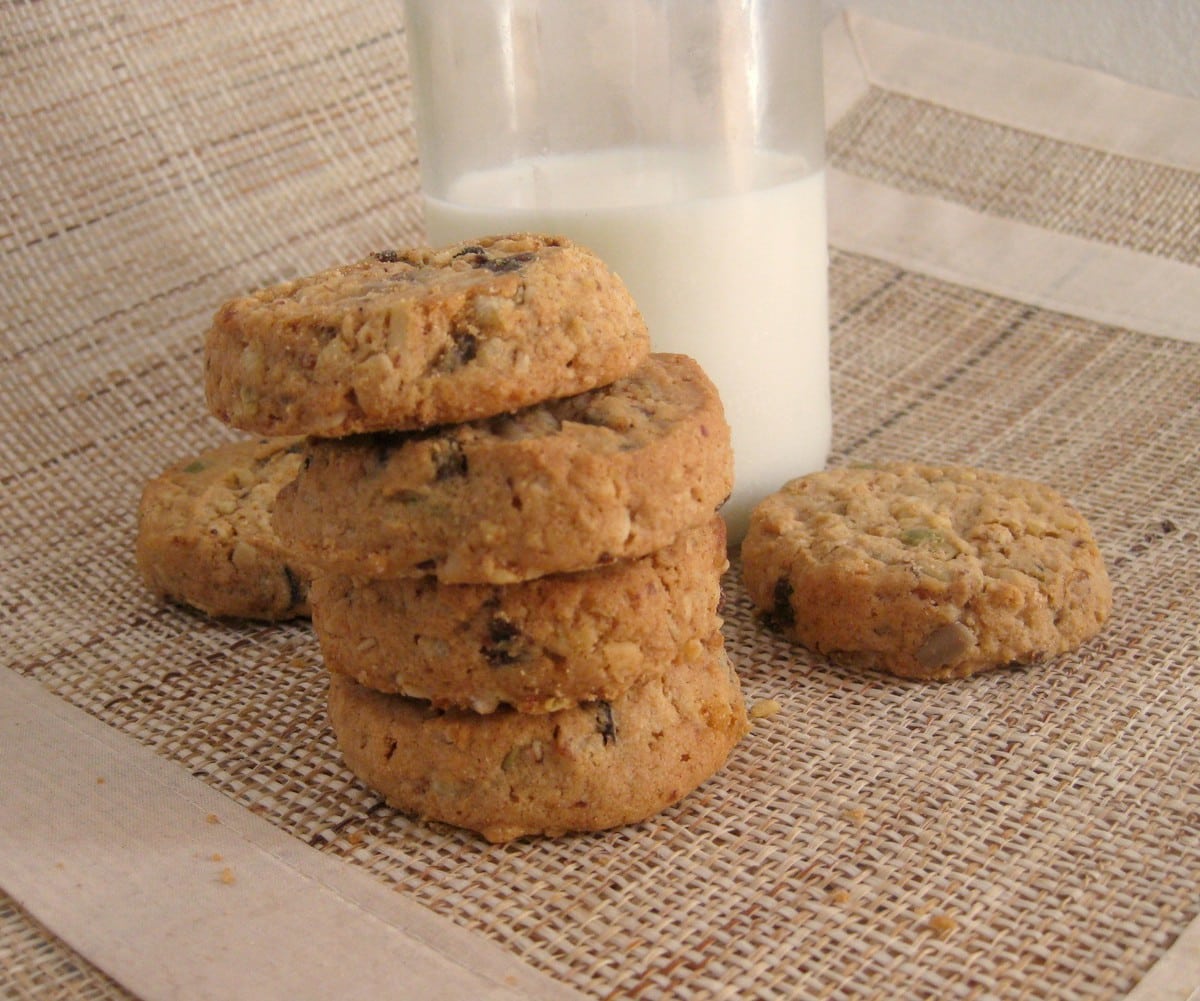 Single-Serving Gluten-Free Breakfast Cookies | The Big Man's World
There is something about single-serving recipes that has been speaking to me lately, especially ones that are for sweets. These look like thick, delicious cookies – and they're healthy! These can be made anytime you want to satisfy your sweet tooth.
Flourless Thumbprint Breakfast Cookies (Vegan, GF) | Oh She Glows
All you need is mashed banana, rolled oats, ground flax seed, cinnamon, sea salt, jam and the nut butter of your choosing. This recipe calls for jam, but I would use the low-sugar preserves found at Trader Joe's. These cookies just look so tasty, and are "soft, doughy, and dense."
Apple Cinnamon Protein Breakfast Cookies | The Healthy Maven
I love all things apple and cinnamon, though you may have noticed that in the apple pie protein muffins I made. Apple and cinnamon go great together. This recipe also uses banana, pea protein powder, and rolled oats, so you're getting good carbs with your protein! You can also try Davida's Pumpkin Almond Butter Breakfast Cookies!
Healthy Breakfast Cookies | Leelalicious
These breakfast cookies are full of whole grain oats, nuts, seeds and dried fruit. To keep it all together, use peanut butter, honey, a banana and coconut oil. The best thing about this recipe is you can mix and match with whatever nuts and fruit you have at home.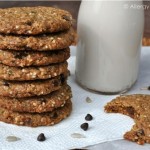 Protein-Packed Monster Breakfast Cookies | Allergy-Free Alaska
These have a bit more sugar than I would prefer, but you can use the sugar and sweetener of your choice (like coconut sugar, honey, etc.) I love that these breakfast cookies are also made with sunflower butter, hemp seeds, and coconut – and are totally customizable with mix-ins!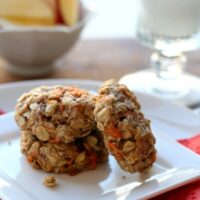 Carrot Cake Breakfast Cookies (Vegan) | Perry's Plate
Flour, oats, flax, nuts, carrots and coconut… all combined for one delicious breakfast cookie rich in vitamin A. Added bonus: the only sweetener you get is ¼ c maple syrup, so these are low in sugar too! Cake, cookies, and carrots… all for breakfast.
The Ultimate Breakfast Cookie | Raising Generation Nourished
These are dairy, egg, gluten- and refined sugar-free. They have healthy fats, a good source of carbs, and the recipe makes six large cookies. Coconut, dried fruit, and peanut butter are also included, but you could use whatever nut butter you wish with tasty results!
Do you have a favorite grab-and-go breakfast? Share it with me in the comments! xo